Server upgrade and maintenance: Yabla site will be unavailable on Sat, May 15th, between 12am - 3am EDT (UTC-4). We apologize for any inconvenience!
X
Watch a show, play a game,
become fluent...
Language Immersion With Authentic Video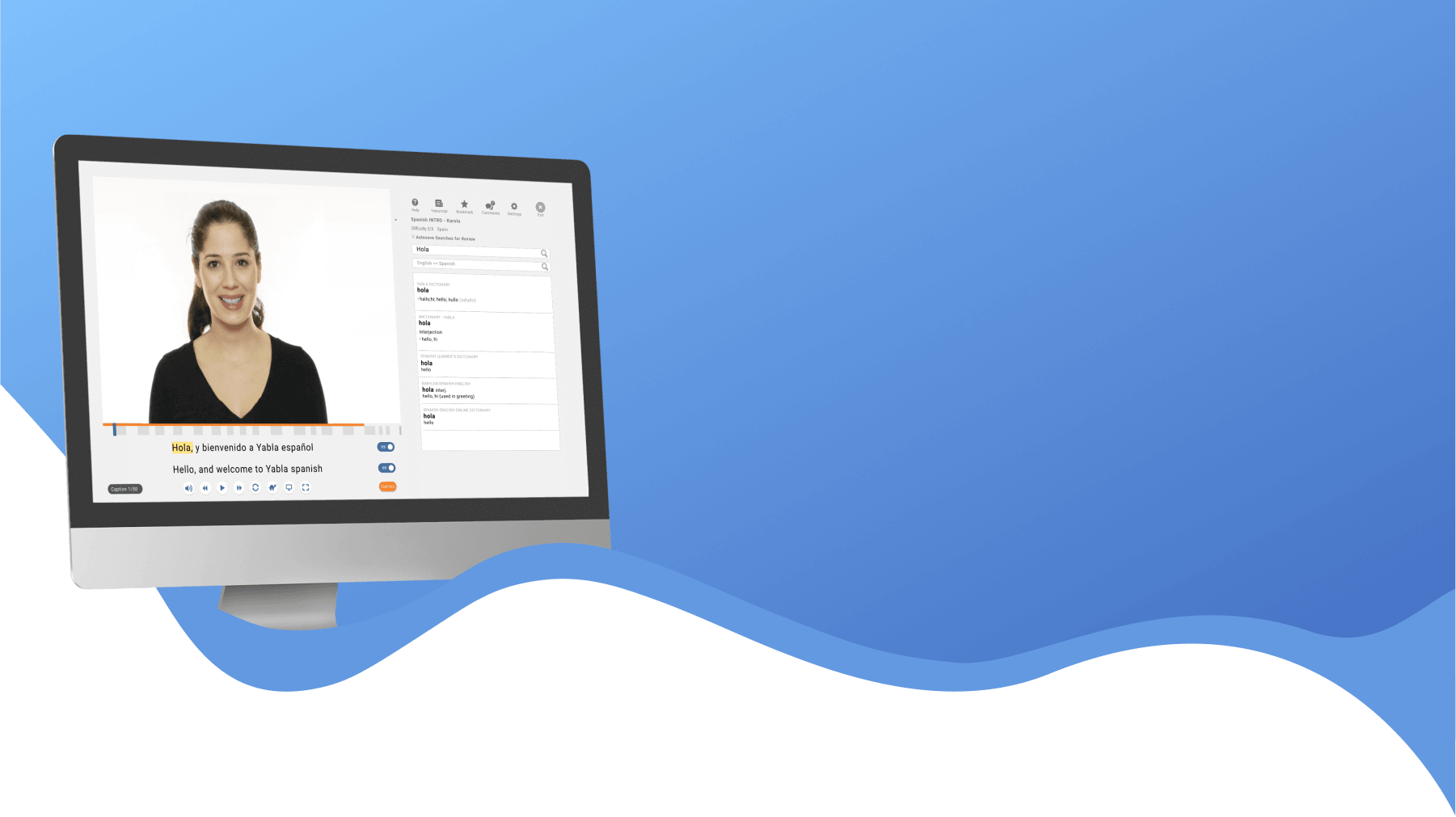 Trusted by world-class organizations and academic institutions

What Yabla Subscribers Say
Love it and happy I stumbled across it!




Yabla is a great tool to help you along with





learning a language. Easy to use and has





some great features. It's very reasonable





and I enjoy using it.



Next best thing to a private teacher




The site is easy to navigate. The short TV episodes and





subjects are excellent. I like being able to repeat in a





loop and to change the speed if needed.



Marvelous!!!




Fantastic for listening and increasing your modern vocabulary





by listening to various interesting pieces from guitar





lessons, to city tours, to TV excerpts to songs.



Great program




I have found your videos to be extremely helpful. I like the





way it allows me to read and translate or to turn those





functions off. I like the vocabulary practice and the authenticity





of the small short videos. It's also engaging and fun.



Yabla - for Learning how to Really Enjoy Travelling Abroad




Yabla Italian and Yabla French are both excellent ways





to learn those beautiful and useful languages. Since 2010





I have taken 4 different trips to Italy and what I have





learned through Yabla really helped me in communicating





with the "locals" in that country. ... Bravo!



A Yabla Community




It's a great learning tool for various levels of French.





Tech Support has been very helpful. Kind of feel like it




is a Yabla community. Merci...



Increase Your Learning Speed with Smart Subtitle Technology
Dual-language, interactive subtitles and playback controls immerse you in authentic video including TV shows, music, interviews, documentaries, lessons, and more. Learn from the best teachers—native speakers using their language in everyday situations.
Dual-Language Dictionaries
Click any word to see the definition.
Show or Hide Subtitles
Try to follow with no translation.
You Are In Control
Slow down or loop the tricky parts.
Subtitle Repeat
Go back to repeat a subtitle or skip ahead to the next.
Test and Improve
Each video also comes with interactive listening games and exercises, like fill in the blanks, review vocabulary, scribe dictation and multiple choice. Personalized flash cards help you practice just the vocabulary you want to improve.
Immerse Yourself Anywhere
By immersing yourself in authentic video content you'll be able to learn from the best teachers there are–native speakers using their language in everyday situations. It's the next best thing to studying abroad.
Stay Engaged, Study More
Our video library is constantly growing and spans everything from TV shows, music videos, interviews, and documentaries to lessons and original content. Yabla keeps you interested so you'll want to study more often.
Are You an Educator?
Complement your curriculum and boost your students' comprehension and conversational skills by exposing them to native speakers.