Italians love pasta, and so do a lot of people, there's no doubt about that. Some Italians eat pasta every day, some eat pasta twice a day. So they need quick and easy pasta recipes for those moments when there's no time to slave over a hot stove.
There are plenty of simple pasta recipes that can satisfy the palate. The essential thing is to have the necessary ingredients on hand. That way, you can combine them any way and any time you want. That's the secret of making easy pasta recipes.
The secret is in the ingredients.
If you have quality ingredients, there are plenty of easy pasta recipes you can make. Here are the main ingredients to have on hand.
The first ingredient is the pasta itself.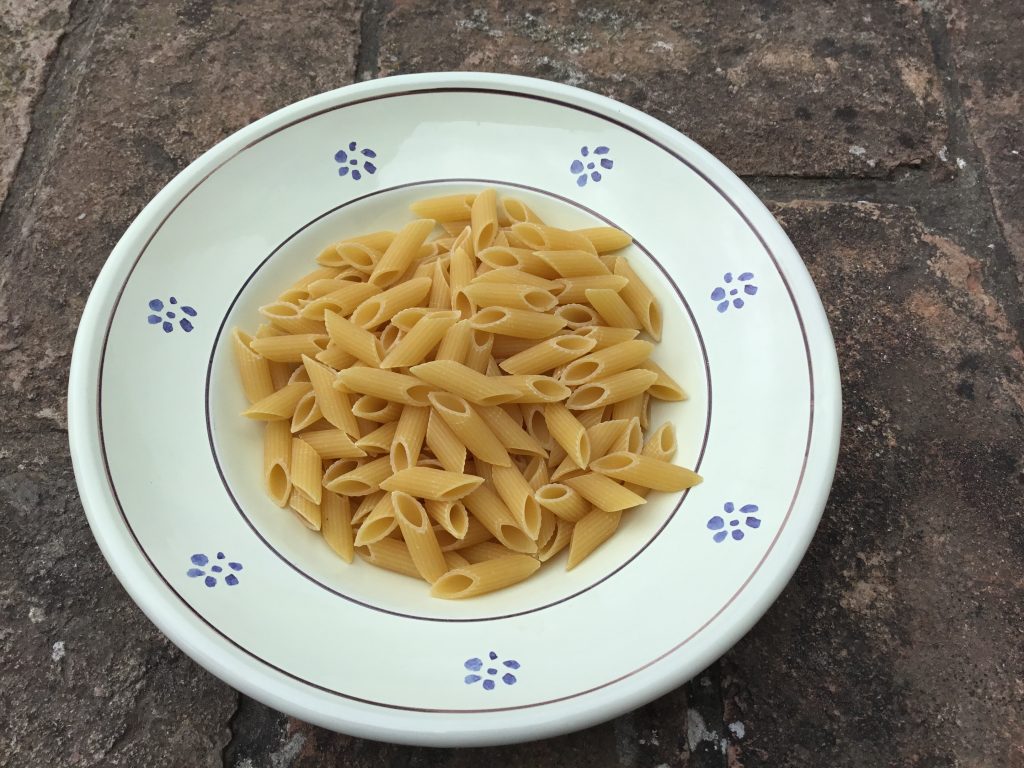 It's pretty easy to find good pasta just about everywhere. Italians know how to make it. "Normal" pasta, which comes in all shapes and sizes, is usually made of durum wheat flour and water and then dried. Pasta all'uovo (pasta made with flour and eggs) is often found fresh in the refrigerator section of a shop, and eaten fresh, although you can find dried egg pasta as well. There are easy pasta recipes with egg pasta, too.
The second ingredient for easy pasta recipes is olive oil.
Olio extra vergine di oliva. It's produced from the first round of crushing the olives and pressing them to obtain the oil. The lower the temperature of this process, the better. Italians use a lot of olive oil in the kitchen, so they often have a less costly grade of olive oil for cooking, and a special one for using directly on the food, which they call olio crudo (raw oil).

The third ingredient is garlic — aglio.
Aglio (garlic) is a wonderful alimento or food. When you buy it, make sure it is hard to the touch. If it gives way, it's too old, and it will taste too strong.
Many Italians like to remove the inner part, the anima, the stalk. They say that's the part that can be hard to digest.
You may not want to use garlic in every dish, but when you need it, you need it, so keep it on hand. A great technique is to smash the garlic and let it sauté in the oil, slowly, without burning it. Then remove it and discard it. You'll have a fragrant oil that isn't too strong but lends plenty of flavor to your dish.
If you don't like garlic, or have trouble digesting it, just skip it.
The fourth ingredient is parmigiano (parmesan cheese).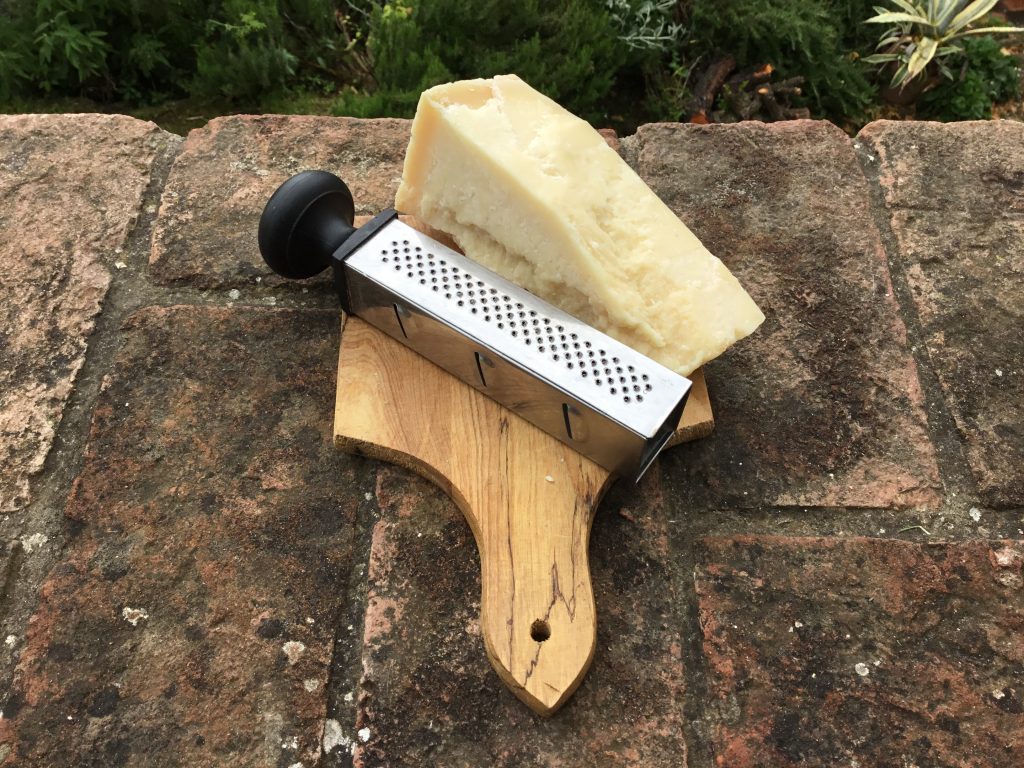 Most pasta dishes, except those with fish and some mushrooms, call for some parmigiano. There are other cheeses like pecorino romano (a type of hard seasoned sheep cheese) or ricotta salata (salt cured grating ricotta) but certainly, parmesan cheese is the most common. Any Italian household will have a hunk of parmesan cheese in the fridge to grate onto the pasta.
Fun fact: When Italians make broth from beef or chicken, they throw in the rind of the parmesan cheese. It gives the broth a very special flavor.

The fifth ingredient to have on hand for easy pasta recipes is some form of pomodoro (tomatoes).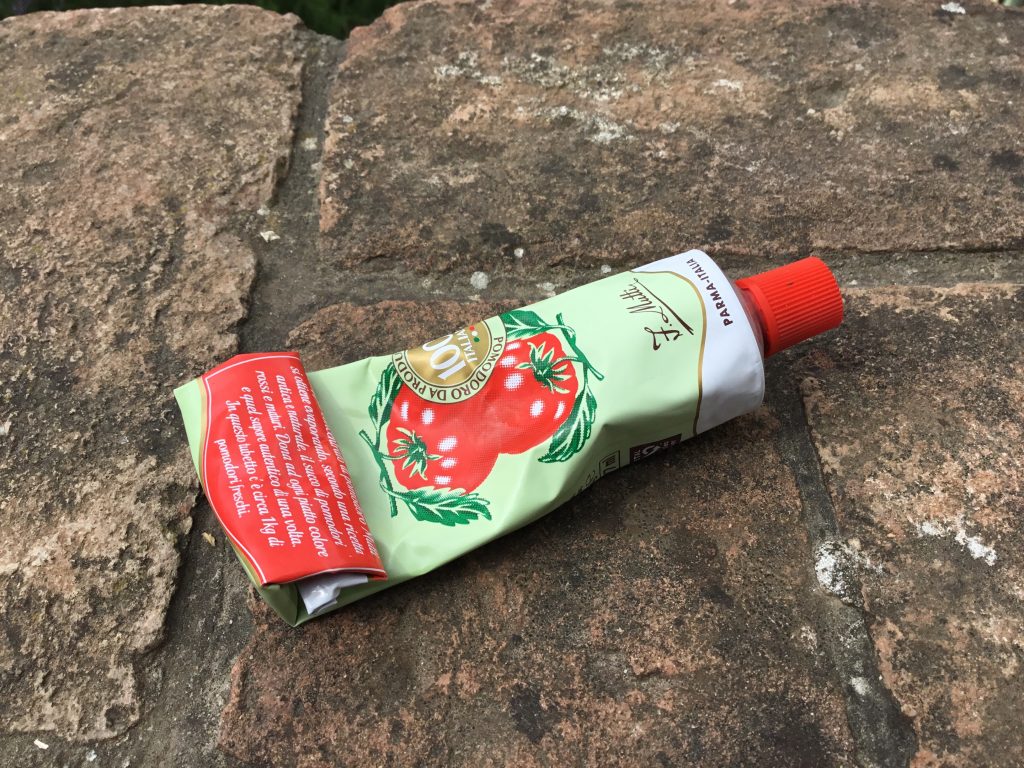 In the summer, fresh tomotoes are used all over, but in the colder seasons, there are canned tomatoes or canned tomato pulp, or passata, also called salsa (puree). Doppio concentrato di pomodoro is handy to have on hand. It comes in a tube (because you often need just about a teaspoonful), and can be combined with minced garlic to form the basis of a sauce. Every cook has his or her favorite brand. The better the quality, the better your pasta will taste. It's customary to add a bit (a teaspoon) of sugar to the tomatoes you are cooking (in addition to a little salt). It cuts down on the acidity.
The sixth ingredient is parsley or basil. Italian kitchens usually have these ingredients on hand, in the fridge, in the kitchen garden, or in the freezer.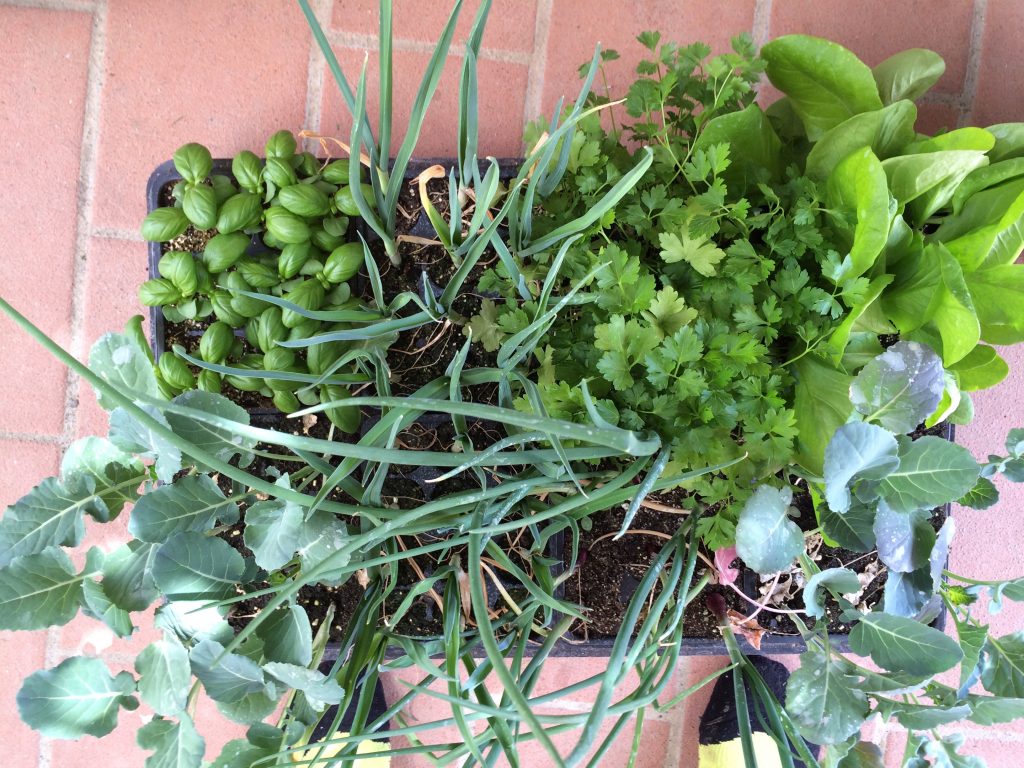 One way to prepare the soffritto (the sauté of garlic or onion, plus prezzemolo (parsley), or even minced carrots and celery, is to use a mezzaluna (half moon). This curved knife with two handles makes mincing fun and easy and cuts down on cooking time. You can add some tomato paste to this once it's in the skillet, which makes it all amalgamate nicely.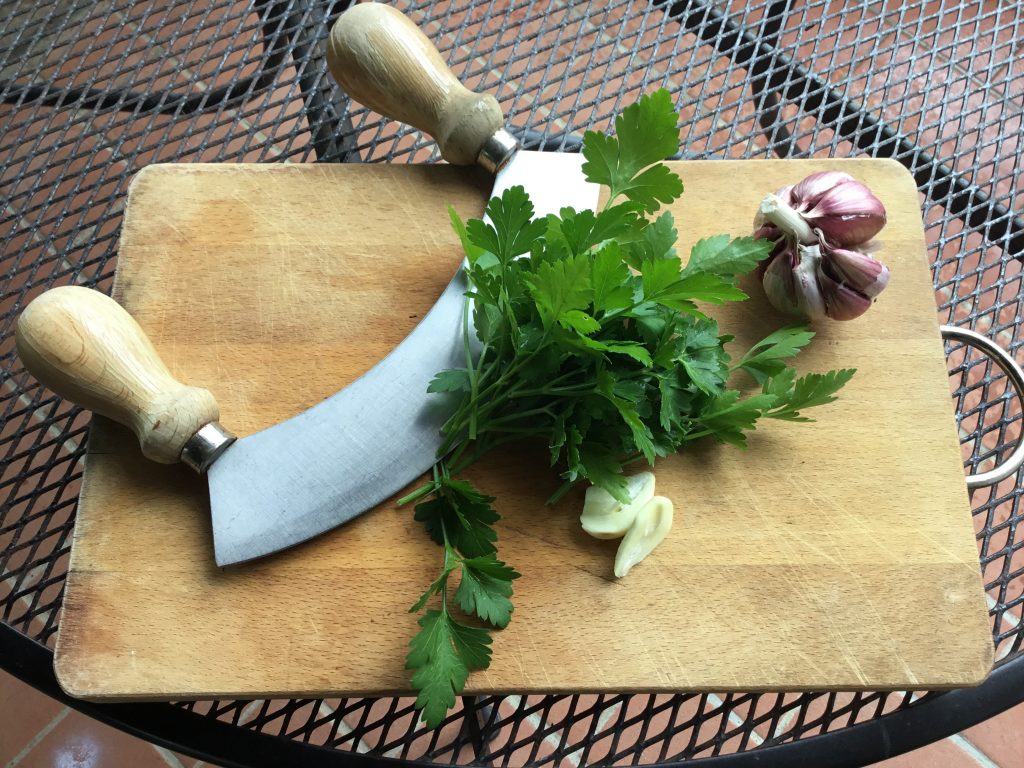 A seventh ingredient is salt. Sale grosso (coarse salt) is what Italians use to salt the water for the pasta.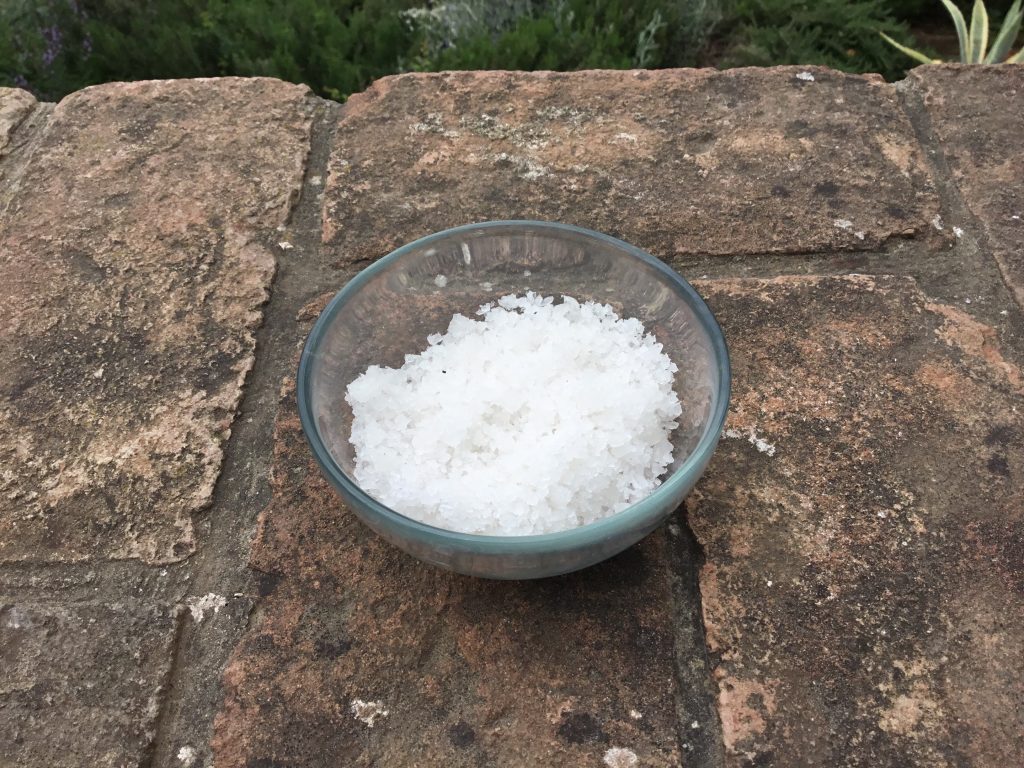 And now, let's get to the easy pasta recipes!
For all recipes:
Step 1: put up plenty of water to boil in a big pot. Salt it once it's boiling, not before. With practice, measuring will become second nature. Using a pot with an inner basket makes it easy to drain the pasta.
Step 2: Get started on your simple sauce. The sauce usually starts out with a soffritto. This just means sauteeing the basics like onion or garlic and whatever else. If you make your sauce in a high-sided pan, you will have room to add the drained pasta at the end. That way all the flavors mix together. It's also a good idea not to throw out the water you cook the pasta in. You can use it to allungare (thin down) your sauce if necessary.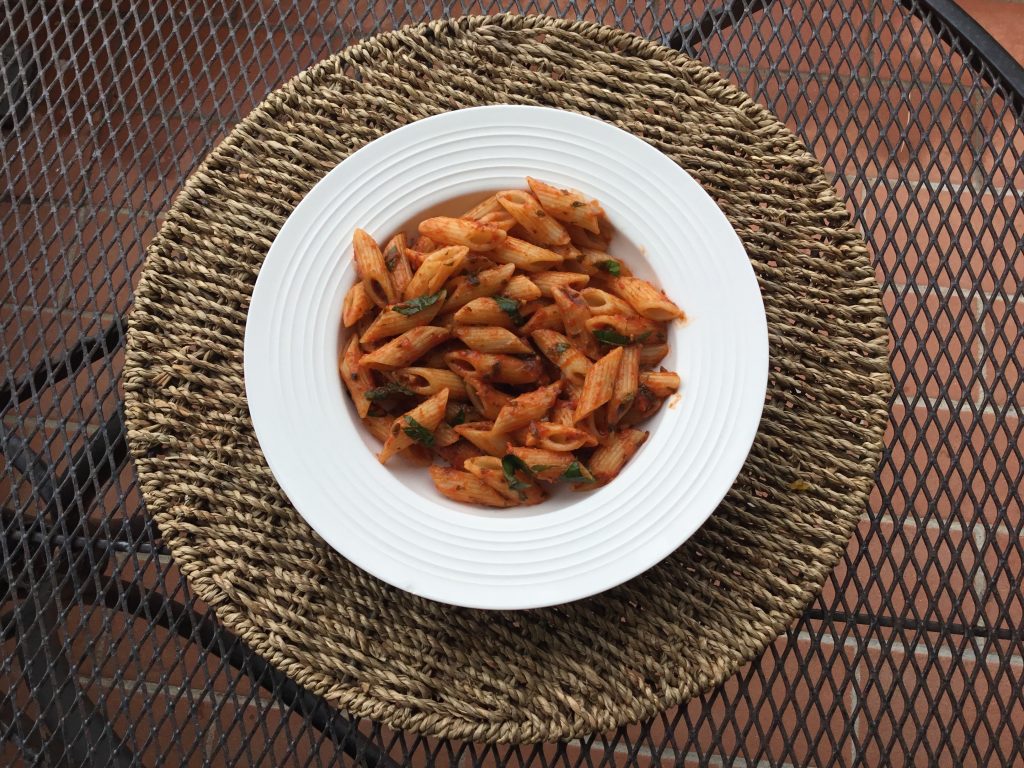 Pasta al pomodoro (pasta with tomato sauce) — basic and easy.
Start with un battuto di aglio e prezzemolo (finely chopped garlic and parsley). A mezzaluna (half moon) is handy for this. But if you don't have time for all this chopping, just crush the garlic, sauté it for a bit, and add the tomato in whatever form (remove the garlic before serving). When the sauce looks almost cooked, it's time to cook the pasta. Nobody likes to wait for the water to boil, which is why putting up the water Is the first step. Use parsley or not. Some people add oregano. In the summer, fresh basil on top adds a special touch. Some cooks use basil in the soffrito.
Spaghetti con aglio, olio e peperoncino (spaghetti with garlic, olive oil and hot peppers). Easy and quick.
The usual pasta for this dish is spaghetti, or some sort of long pasta, but you can use whatever pasta you like. Sauté the garlic in the oil. Be generous with the olive oil, because it's the main ingredient of your sauce. It's fun to use whole dried hot peppers because they look nice, but pepper flakes work fine too, to flavor the oil. Just be careful not to burn the garlic and hot peppers. Remove garlic or not. After you have cooked and drain the pasta, add it to the pan to get all of the flavor onto the pasta. Traditionally, grated parmigiano is not called for in this recipe, but some people like it.

Tip: Keep in mind that hard cheeses for grating, like parmesan and ricotta salata tend to be salty, so you need to compensate a bit.
Cacio e pepe (pasta with cheese and black pepper) — Sometimes less is more.
Cacio is another name for "cheese." Ingredients are pecorino romano (a type of hard sheep cheese), freshly ground pepper, and acqua di cottura. That's the water you are cooking the pasta in! You can't get much simpler than that.
The idea is to combine the grated pecorino romano with the pasta cooking water to make a creamy paste. Do this just before the pasta is ready. Use a ladle to add the cooking water little by little to reach the right consistency, whisk it around until it's creamy! Keep a little extra grated cheese to add if you do add too much water. Add plenty of freshly ground pepper. The trick is to gauge the right proportion of grated cheese to hot water, so it's neither runny, nor too thick, and to make sure it's not too salty. Pecorino romano is particularly salty, so maybe use a bit less salt in the cooking water. You don't need a frying pan for this recipe. You can do the mixing in the serving bowl. If you go to Rome and want to eat like a Roman, order cacio e pepe!
Pesto: a simple recipe, but good
Pesto is a favorite, especially in the summertime. If you have a blender, you can make it espresso (at the moment) and fill the kitchen with the wonderful fragrance of fresh basil. Throw in the fresh basil leaves (not wet), pine nuts, a clove (or part of a clove) of garlic, and blend it into a paste. Depending on your blender, you might want to grate the parmesan cheese (or pecorino romano) separately, Add the parmesan and olive oil in the blender or afterwards, in the serving bowl, and a tiny bit of salt (or not).
Keep the pesto in the blender, covered, until you are ready for it. Place the pesto in the serving bowl at the last minute, otherwise it might turn brownish and get a bit acidic. Ladle a bit of cooking water onto the pesto and mix it until you get a creamy consistency to distribute over the pasta. Add the drained pasta to the bowl and mix it around well. Add a few basil leaves on top as a decoration.
Tip: The garlic should not be overpowering. It should just add a little zing. If you (or your guests) don't like to eat raw garlic, you can also leave it out entirely. It will still be fantastic.
Pasta in bianco: the easiest of easy pasta recipes!
One last pasta recipe. There are lots of Italians who like pasta in bianco. In bianco (white) generally means with no tomato sauce, but it's also synonymous with the following easy pasta recipe, perhaps the easiest of all:
Cook the pasta (don't forget to salt the water!), drain it, add good olive oil (or butter if you prefer), add grated parmesan. Enjoy. You'd be surprised at how many Italians like this super easy pasta recipe best of all.

Get creative with these easy pasta recipes
In place of tomatoes, or in addition, you can use just about any vegetable: In some cases you will want to steam or boil the vegetable first. Vegetables that lend themselves to this technique are cauliflower, broccoli, and broccoli rabe. Use the vegetable cooking water to cook the pasta. So easy, so flavorful! The cooked and drained veggies can be sautéd a bit in olive oil and garlic while the pasta is cooking. Or just sauté vegetables like zucchini or bell peppers in garlic and olive oil, optionally add tomato concentrate or tomatoes in any form, and cook some more, and it will be absolutely awesome. With zucchini or peppers, start early, so the vegetables will have time to cook until tender.
Tip: Make sure you use a frying pan big enough that you can add the drained pasta to whatever sauce (condimento) you are preparing. You might need some of that cooking water to allungare il sugo, so don't pour it all down the drain.
A few terms:
Soffritto. Friggere (to fry) is the basic verb, but if we use the prefix so, we slow it down, we lower the temperature. Bollire (to boil) can become sbollentare (to blanch).
Al dente ("to the tooth" – firm-ish). Don't overcook the pasta. Cooking time is indicated on all pasta packages, and if you keep using the same brand, you will know whether to add a couple of minutes or not, so that the pasta will be just the way you like it. Italians typically do not like it when the pasta is too soft. They like it al dente.
More than being precise recipes, these are the basics for creating your own very easy pasta dishes. You'll never be at a loss for what to make when you have company, or when you really feel like eating a nice plate of pasta.
Over at Yabla, among the many videos on offer, there are numerous, original cooking videos, too, where you learn to make a recipe step by step, in Italian! Cooking is a fun way to learn Italian, and you get rewarded with a nice meal at the end. Yabla offers a series of videos about the different regions of Italy and a recipe from each region. Marika and Anna, who live in Rome, explain and demonstrate each recipe.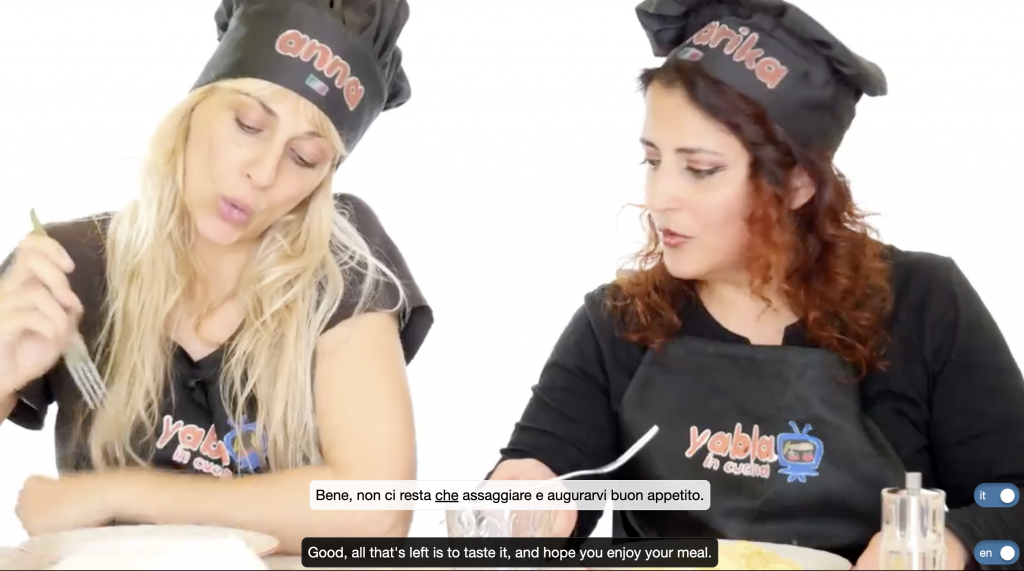 Buon appetito from Yabla!