There are many traditions that make Christmas in Germany an especially festive time of year. So what can you look forward to during the holiday season in Germany?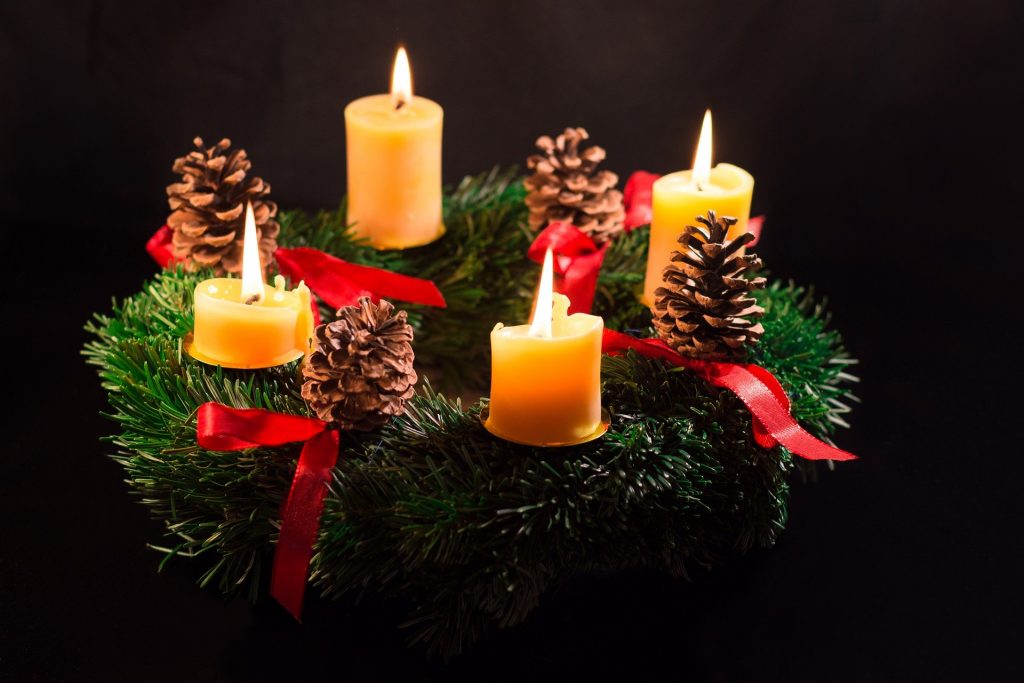 Christmas Markets in Germany
Christmas decorations already started appearing in the shops at the end of October. However, the Christmas season in Germany really begins with the first Sunday of Advent. This is when a Christmas market opens in most towns and cities. The word for this is either der Weihnachtsmarkt, der Adventsmarkt, or der Christkindlesmarkt.
In the evenings, people gather on the town square or in an enclosed market hall. There, they can do Christmas shopping, listen to music, drink Glühwein, and eat snacks. These include savory dishes, but also many types of sweets, such as candied almonds (gebrannte Mandeln), which come in a small paper bag. Adults drink a mulled wine called Glühwein, and there is always a hot alcohol-free punch for children.
A typical Weihnachtsmarkt has small wooden cabins or tables with heaters, stands selling assorted gifts and treats, and rides for children. And of course, we should not forget the centerpiece: a large Christmas tree, known as der Tannenbaum or der Weihnachtsbaum.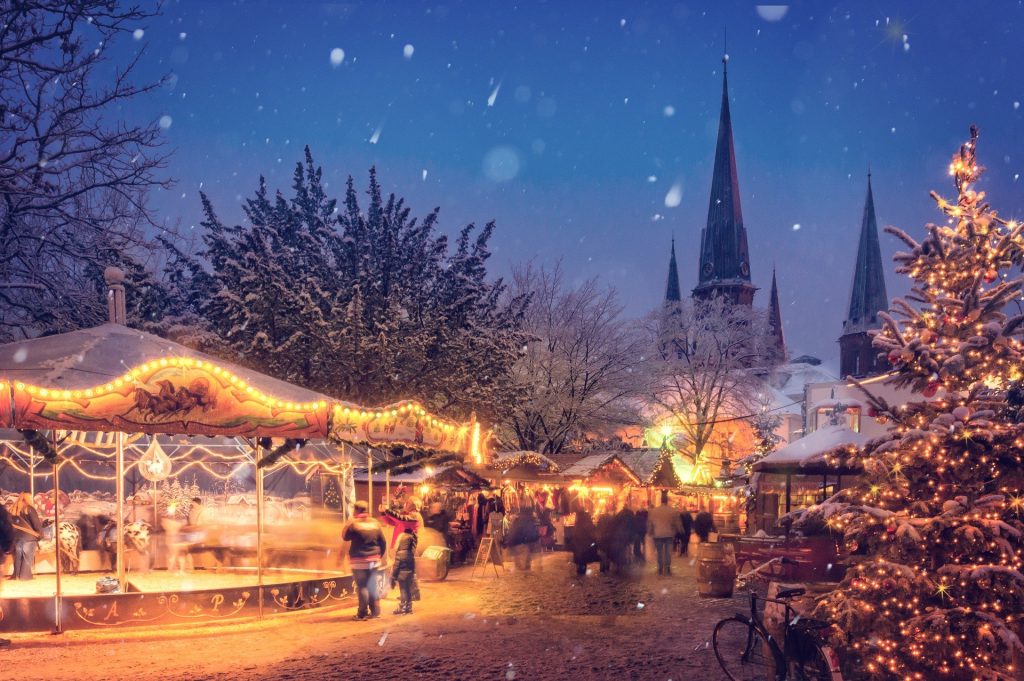 Traditions in Germany: Advent Calendars
When it comes to Christmas traditions in Germany, it seems like anything can be made into an advent calendar these days. Most advent calendars simply have pictures or chocolates behind the little doors. However, brands selling cosmetics, toys, beer, tea, spices, and even electronics have recently begun putting out advent calendars as well. So you can find the right advent calendar for pretty much any person with any interest!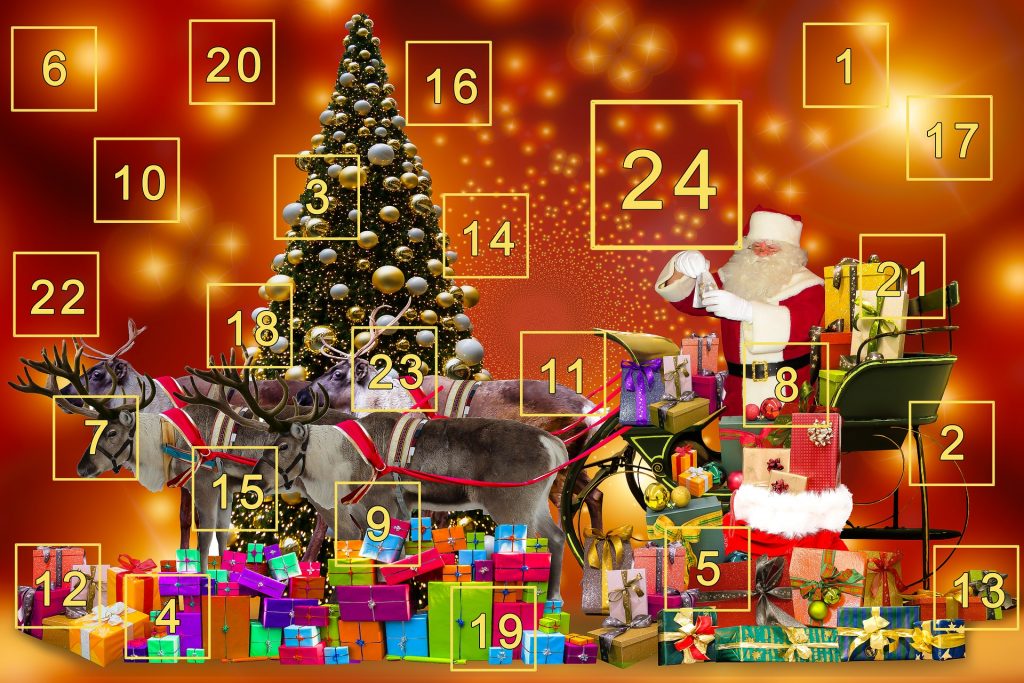 The Tradition of Nikolaus
On December 6th, many families in Germany observe Nikolaus to commemorate the death of the bishop Nicholas of Myra. The night before, children put out their boots at the front door. They then find them filled with sweets or small toys the next morning. Before the Reformation, Nikolaus was the day for gift-giving in Germany. Now, most families exchange presents on Christmas.
Traditional Baked Treats
Gingerbread, or Lebkuchen, is specific to the Christmas season in Germany. You will find it in shops and bakeries alongside Christmas cookies (Weihnachtsgebäck) and marzipan creations.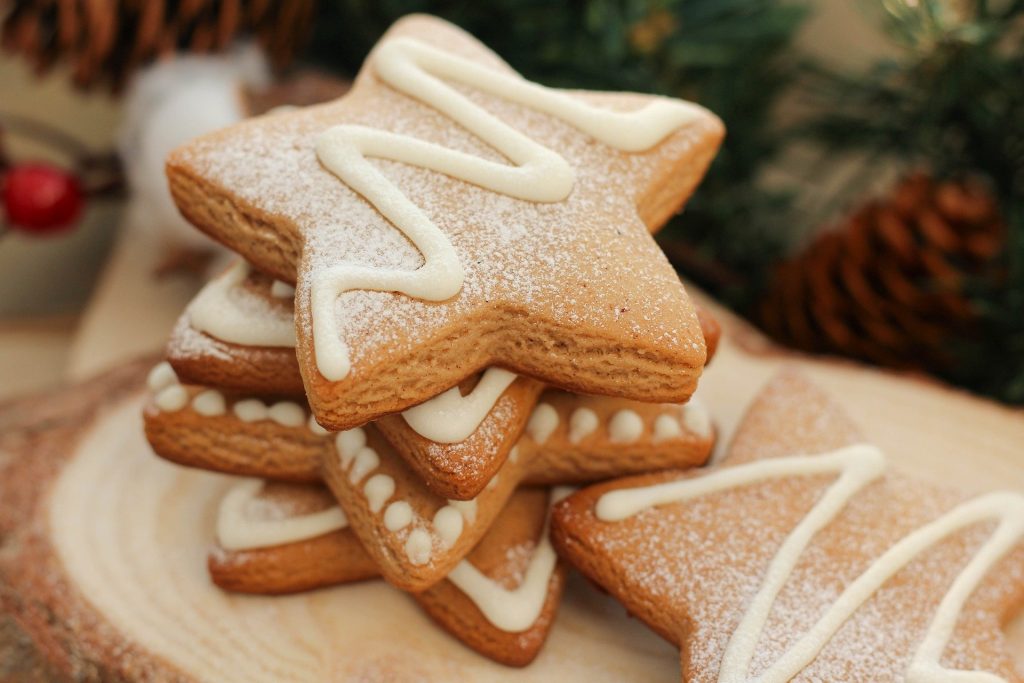 During the holiday season, you will also see Stollen for sale. This is a cake with raisins, dried fruit, nuts and/or spices that is covered with powdered sugar. The original is the Dresdener Stollen which comes from — you guessed it — the city of Dresden.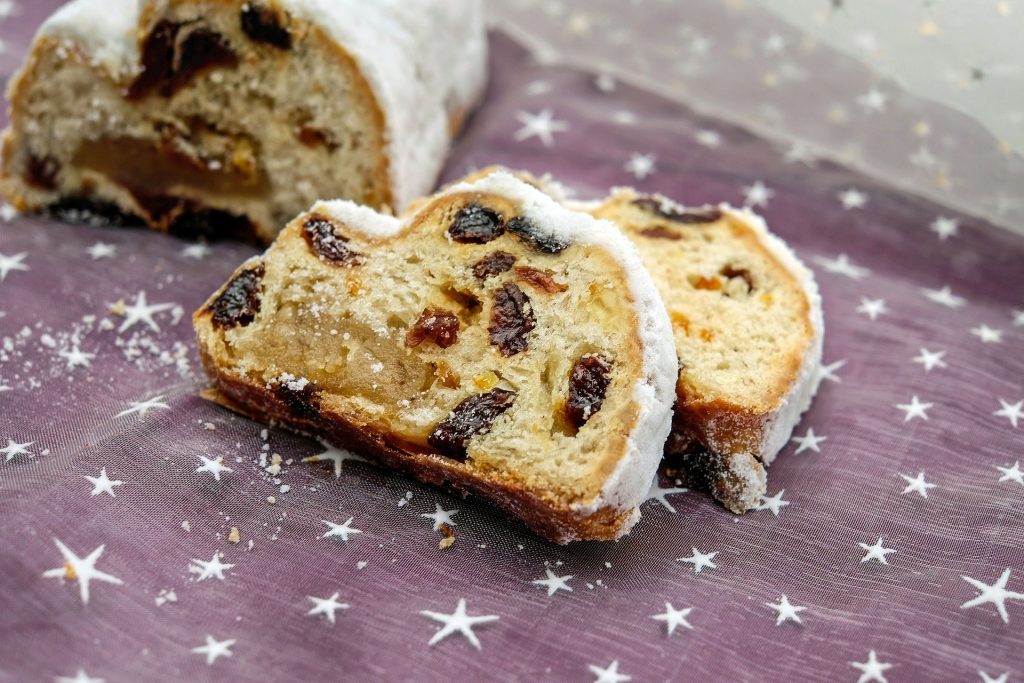 Christmas Eve and Christmas Day
Christmas is celebrated on the 24th and 25th of December. On Christmas eve (Heiligabend), many German families eat a simple meal consisting of sausages and potato salad, or fish. They exchange gifts (die Bescherung), and some families attend a midnight mass. The lavish feast usually takes place on the 25th. The most traditional meal is a Christmas goose with potato dumplings and red cabbage.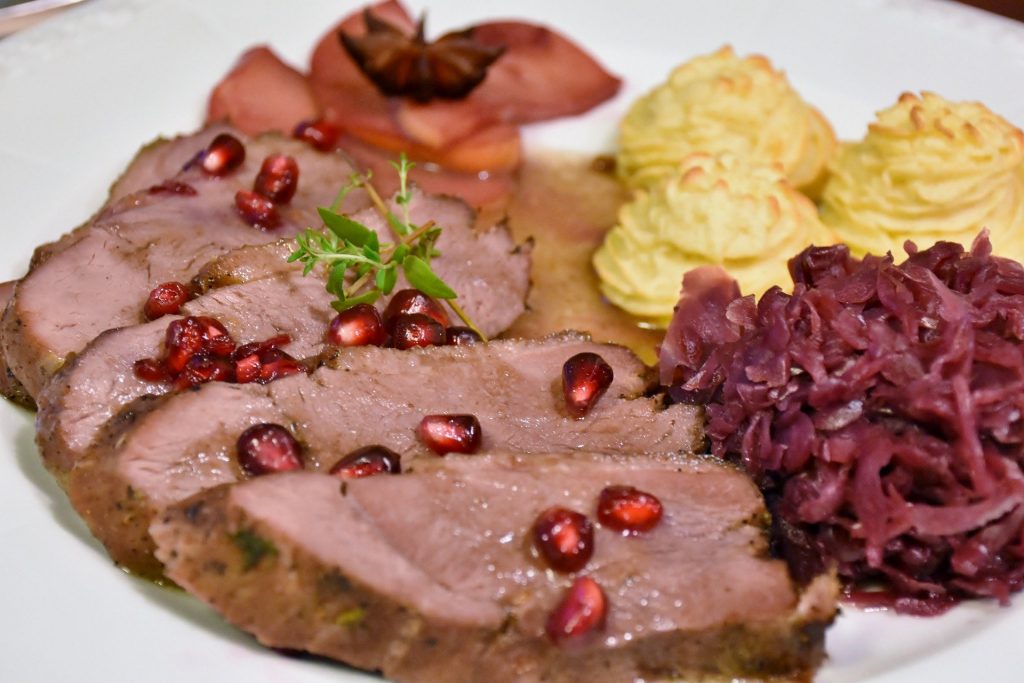 Give the Gift of Language with Yabla
If you know someone who is interested in immersing themselves in German language and culture, a Yabla subscription may just be the perfect gift! With Yabla, you can discover a new world through videos currently circulating in German-speaking countries. Our range of videos, all featuring native speakers, includes news reports, music videos, movies, documentaries, interviews, TV shows, lessons, and much more.
Learn German with the help of interactive subtitles, vocabulary reviews, comprehension questions, and dictation exercises — and go on your own language-learning journey with Yabla.
Yabla offers you the possibility of learning at your own pace and through videos pertaining to your interests. Expand your horizons by learning the most spoken language in the European Union.